Legendary.Weapons.of.China.1984.DVDRip.XviD-RETRO
Props to Mexican Taint for the Up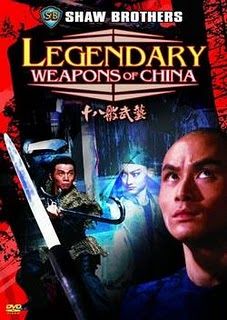 Release Info
Release Name: Legendary Weapons of China (1984)
AR : 2.35:1 .
Release Date: 04/17/2005
Format : XviD
Store Date : 10/19/2004
Resolution : 608x256
Runtime : 100 Minutes
Video : 865 kbps
CDs & Rars : (50x15)
Audio : 96 kbps mono
IMDB : www.imdb.com/title/tt0084671
Subtitles : English
Movie Info
During the Boxer Rebellion, gun toting foreigners invade China and
begin slaughtering all who oppose them. Finding their skills no match
for this deadly new firepower, Lei Kung retreats, but finds himself
pursued by other kung fu schools who want him silenced. Using every
Chinese weapon available, Lei takes on his informer brother in a battle
to the death. A martial arts classic with breathtaking choreography.
Don't miss it!
directed by:
Lau Kar-Leung
starring:
Sheng Fu .... Wu
Hou Hsiao .... Tieh Hon
Kara Hui .... Fang Shao-Ching
Rippers Notes
Enjoy this Shaw Bros movie! We used Cantonese soundtrack, and included
the Mandarin soundtrack as an extra. Shaw says this movie is from 1984,
so we'll trust their date rather than the imdb one.
****NOTE****On part 5 for rapidshare, you need to add (.rar) after the file. My bad but I am not going to re-upload it after all this.
Rapidshare
http://rapidshare.com/files/384825366/Legendary.Weapons.of.China.1984.DVDRip.XviD-RETRO.mexican-taint.com.part1.rar
http://rapidshare.com/files/384824663/Legendary.Weapons.of.China.1984.DVDRip.XviD-RETRO.mexican-taint.com.part2.rar
http://rapidshare.com/files/384825161/Legendary.Weapons.of.China.1984.DVDRip.XviD-RETRO.mexican-taint.com.part3.rar
http://rapidshare.com/files/384824758/Legendary.Weapons.of.China.1984.DVDRip.XviD-RETRO.mexican-taint.com.part4.rar
http://rapidshare.com/files/384824788/Legendary.Weapons.of.China.1984.DVDRip.XviD-RETRO.mexican-taint.com.part5
MegaUpload
http://www.megaupload.com/?d=MPN751RM
http://www.megaupload.com/?d=2IGR1XGN
http://www.megaupload.com/?d=YL75MN8B
http://www.megaupload.com/?d=3HDSQK63
http://www.megaupload.com/?d=CW3BBQ3X