It's been 15 years since legendary video game developer CAPCOM® unveiled the Darkstalkers™ to the world. Since then the game has become a beloved fan favorite in games and anime with its sweeping vision of shadowy stygian realms, strange creatures and mysterious temptresses.
UDON Entertainment's Darkstalkers Tribute is a special volume of original illustrations from artists all around the globe, professionals and fans alike, commemorating the 15th anniversary of the Darkstalkers franchise.
Inside are nearly 300 pages of artwork portraying the Darkstalkers cast in a feverish array of styles and designs, from tightly rendered realistic paintings through to abstract and iconic interpretations. This is a lush video game art gallery in a book, bursting with inspiration and energy on every page.
Fans of UDON, comics, video games, concept art and anime will all find Darkstalkers Tribute an exciting new vision of the Night Warriors, brought to you by the studio that introduced a new generation of fans to the magic of CAPCOM.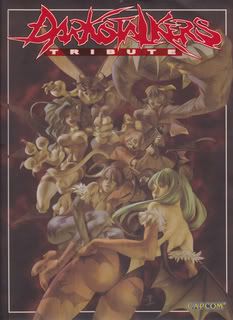 http://www.megaupload.com/?d=LG2I4LUI
550mb